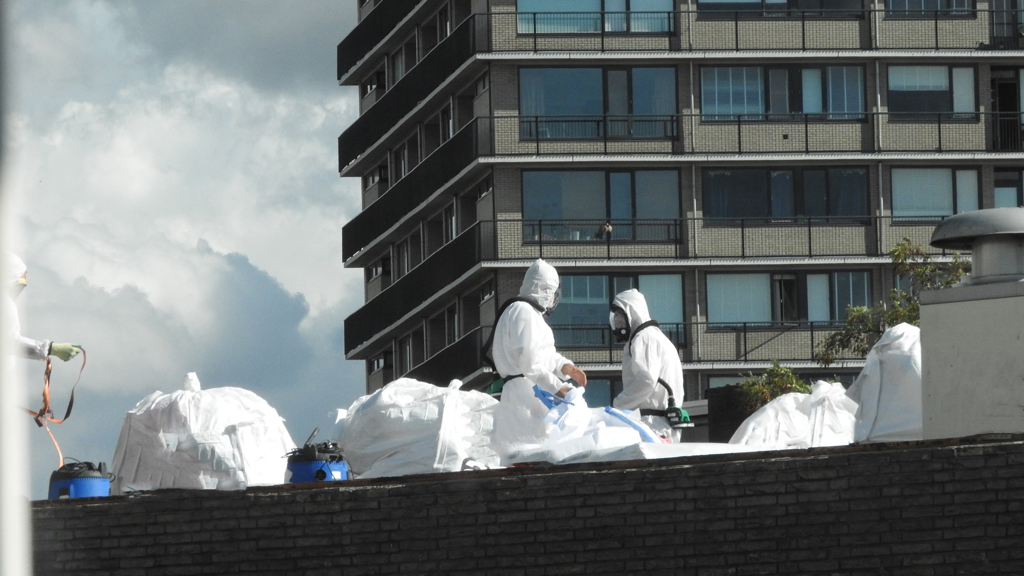 Proposed amendments to B.C.'s Workers Compensation Act will require asbestos abatement contractors to be licensed, a first in Canada, and employers and workers to undergo mandatory training to a set provincial competency level and be certified by WorkSafeBC (WSBC).
The amendments will impact assessing, removing, repairing, transporting and disposing of materials that may contain asbestos and could be in effect by year end.
B.C. Labour Minister Harry Bains said he expects the legislation to be passed in the B.C. Legislature late spring and his ministry will begin establishing the regulations while WSBC will begin working with stakeholders to develop a training model and licensing program. The changes will also include a registry where members of the public and industry can determine if a company is licensed.
The certification will relate to training.
"It is for the workers who go through training and have completed the mandatory training," he said.
Each year, 35 to 40 per cent of workplace deaths are asbestos related, Bains said. Dubbed the silent killer, it takes decades to manifest itself.
The act updates will provide WSBC with new tools to better police the workplace and ensure contractors are qualified.
"Many workers don't have training or do not have proper training and continue to be exposed to asbestos over long periods. We know it will kill you," Bains said, adding now companies can be shut down.
Under the act, before the amendments proposed, the contractor only had to demonstrate competency but there was no standard.
Al Johnson, WSBC's head of preventative services, said: "We were pleased to participate in the cross-ministry asbestos working group and view the new standards for licensing and safety training as a positive step forward."
But, despite the move forward with industry support, there are those who say the Wednesday announcement was just the beginning.
Dr. Dave Baspaly, president and CEO of the Council of Construction Associations (COCA), said "the whole system needs to change."  It goes beyond the workplace.
Baspaly wants to see government incentives that defray costs and encourage building owners to use licensed contractors rather than seek out a cheap contractor who may be "working in the shadows."
More disposal sites are needed to discourage illegal dumping and there is a need for more municipalities to require a hazardous assessment prior to issuing a demolition permit, he said.
COCA has reached out to WSBC and wants to help with the implementation of the regulations.
"One of the first steps is working with WSBC to ensure that the when the regulations come to life, they can realistically be brought into the marketplace," he said, adding he favours further industry, labour and government summits to address the broader issues.
Bains said his ministry continues to work with other ministries to address the issues related to municipalities and is looking to have solutions in place by year end. Many of these concerns are highlighted in a 2018 cross-ministry report that sparked the licensing changes.
"They have taken the first step," said Neil Munro, business manager of BC Insulators Union. "But, we want to know what the training is going to look like for employers and workers."
The union, which runs its own hands-on training programs, is interested in working with WSBC to determine training standards.
"We want in on the conversation," he said, adding he does not favour a web-based training program. Instead, his union favours a 40-hour hands-on training program where those training can experience the multiple ways of addressing removal and there should be an exam.
"I think it is a good day with it being a long time coming," said Brynn Bourke, executive director of the BC Building Trades. "I think it is a good start.
"We are watching on two fronts," she said, with the first being better regulation and enforcement and proposed statute changes.
"What is not in the bill, and what we hope to see, is a more comprehensive approach with municipalities and consumer awareness."
These areas touch on a range of topics from ensuring that municipalities require hazardous material assessment prior to issuing demolition permits and illegal dumping.
"It is a many pronged approach that is needed to deal with asbestos."
Bains said while the amendments provide better enforcement tools for WSBC to remove companies that do not comply, there is also the ability to charge supervisors and company owners with criminal negligence under the Criminal Code of Canada (CCC).
"It is a possibility," he said if owners and supervisors knowingly send individuals into a building that is contaminated with asbestos to do work where they are not protected or trained.
The CCC was changed in 2004 to reflect the Westray Law which provides for the criminal liability of owners and corporations, he said.
In 2019, the NDP passed legislation which sets out how police and investigators can collect evidence against those who are found to negligent in workplace incidents.
"We have made some changes and more needs to be done," he said.
Baspaly said the issue of safety on the jobsite is a shared concern.
"This is an issue where labour and employers stand shoulder to shoulder," he said.